Google AntiAdWords
This showed up in my Google ads today: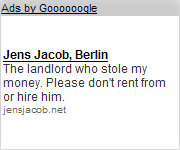 Apparently someone really has it in for Jens Jacob, Berlin and is willing to spend money on getting his point through.
This made me wonder what other, creative, non-advertising uses people have found for Google AdWords. Locating lost dogs? Finding a date for the weekend? Proposing perhaps?