Progress indicators
By Jakob Skjerning:











By Absolute Radio:
By Keppler-IT:

By absofort:

By FreeSolutions:


By Pascal Germroth:



By Martin Jespersen:




By 3 Man Army:


By Nicolai Willems:

By Simon Claret:





By Dvir Volk:

By Laurens van Hees: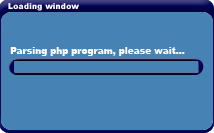 By Sherv.NET:

By Paul C Smith:

By H5 N1:

By PositronVX:
By matt:

By Goldplate Ltd:

By Netlife:











By websedit AG:


By Timur Gafforov:












These images are all released into the public domain. Right click and save if you want to use one for your AJAX application or the like. If you do use them, I'd love to be told about it. Read the journal entry related to this.
If you have a killer indicator of your own that you wish to share, feel free to submit it to me. Please don't submit stuff to me that's not yours to give away.
Please, do not use images directly from my server. <Insert your favorite metaphysical being here> kills a <insert your favorite furry animal here> every time you do. Think of the cute furry animals!
Who uses these?
The following applications and websites have already taken advantage of one or more of these indicators.