Jakob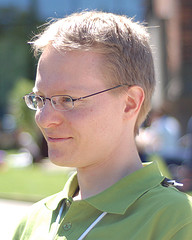 My name is Jakob Lange Skjerning, I was born in 1976, and I am what most people would refer to as a geek. This is my place on the web, where I post my dailyoccasional thoughts and writings.
If you wish to contact me, you can do so by sending an email to the email address you get by putting jakob in front of the domain name of this page.
Substance Lab
I run my own web development business called Substance Lab, where I develop high quality Ruby on Rails applications and design usable and nice-looking websites for customers who care about their presence on the web.
I have worked professionally with the web since 2000, and I am particularly interested in user centric websites and beautiful code.
Jakob elsewhere
mentalized.net
Mentalized.net has officially existed since February 2002. Before that it existed under various other names, some of whose domains are still active. The name, Mentalized, is probably going to stick around now, although I wouldn't be able to tell you what it means.
The entire website is powered by Movable Type and a wide range of plugins:
The rest of the site runs using various small scripts I have put together for the occasion.
Just to be on the safe side
The views expressed on this website/weblog are mine alone and do not necessarily reflect the views of my employer, my mom, my girlfriend, my albino dog, nor any sentient shade of the color purple. They might not necessarily reflect my own views either.
Web standards
I try to adhere to the standards defined by the W3C. To the best of my knowledge all pages validate, as does my CSS and RSS. If I am mistaken I will be happy to hear about it.